The Ed Posh Shootout Event (Golf & Dinner Party) July 15, 2011 Raises Over $30,000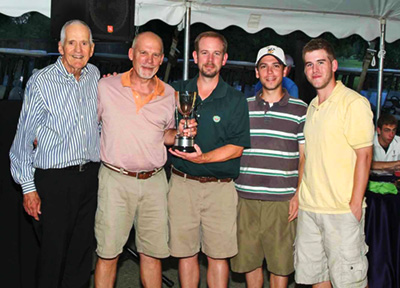 The annual Ed Posh Scholarship Shootout (Golf & Dinner event) took place in beautiful weather conditions on July 15, 2011 at the Village Golf Course in Glen Ellyn. 160 golfers competed in the golf scramble for the coveted Ed Posh Cup, which was won by the Morgan Foursome (Scott, Tim, Sean and Kyle). The winner of the ladies division were Pat Takir, Sue Weismann, Nancy Hennicke and Mary Ellen Martin, 1st place for the mixed division went to Sue and Ray Imburgia, James Kincaid and Mario Jimenez.
The $1,000 prize for the annual Shootout with a total of 16 qualified golfers competing on the 18th hole during the evening events was won by John Mammoser, congratulations. The evening events proceeded with a fabulous gourmet dinner catered by My Chef, Naperville, introduction of the 2011 new scholarship recipients, live and silent auctions, DJ entertainment. Our guests enjoyed a beautiful summer evening.
Our patrons, donors, sponsors, local business contributions made it possible again for us to achieve our 2011 financial fundraising objectives.
The Ed Posh Scholarship Fund wishes to express our utmost gratitude to all, who helped to achieve our goals, including our wonderful scholars and committed volunteers.
See you again next year!
Hubert Buehler, chairman of the Shootout event